Care Drop Premium Black Currant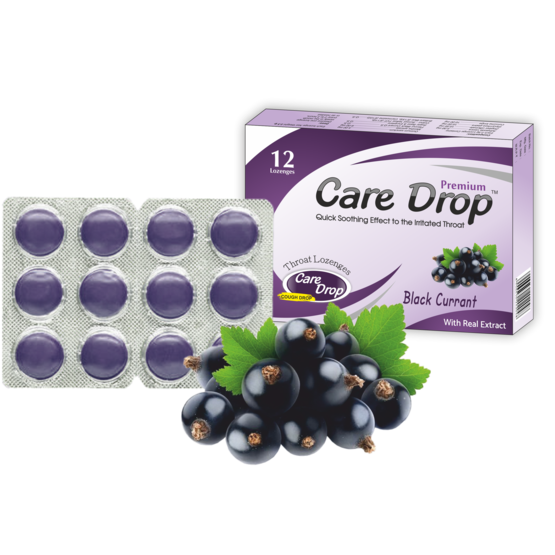 Care Drop Premium Black Currant
The formulation is used for
symptomatic treatment of various types of cough,
hoarseness and sore throat caused by acute and
chronic disease of the upper respiratory tract such
as pharyngitis, laryngitis, tracheitis, bronchitis due
to environmental pollution, smoke, dust, changed
weather conditions, smoking and speaking.
Each Lozenge Contains:
Malabur nut, Ginger, Liquorice, Turmeric, Basil, Menthol, Flavour Black Currant,
Excipients, Colour - Sunset Yellow FCF, Brilliant Blue, Carmoisine
Adults and children above 6 years may
consume not more than 8 lozenges daily.
Place it in your mouth and allow it to
dissolve slowly or as directed by physician.
- Do not use this product if you have
hypersensitivity with any of the ingredients.
- Do not exceed recommend daily dosage.
- Over dosage may cause increase in blood
sugar levels.
- If symptoms persist, consult your physician.
Presentations: Mono Box of 1x12 Lozenges
(1 Blister of 12 Lozenges)