Medicated Throat Lozenges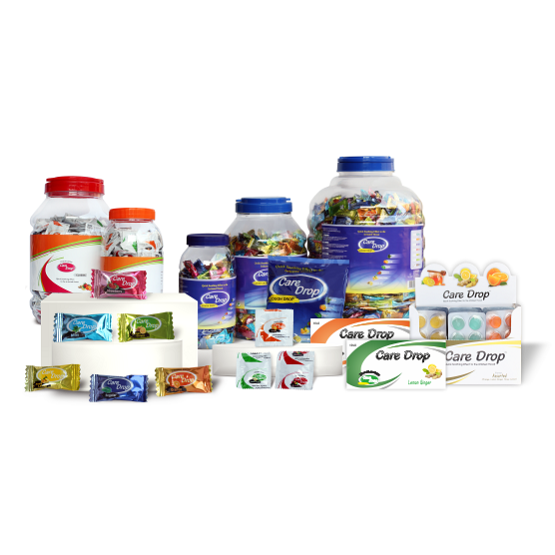 Medicated Throat Lozenges
Effective relief is never far away with Care Drop. These cough drops naturally calm coughs and relieve sore throat pain. Sensation of cough is a natural reflex, which helps to protect the body from infections.
A cough occurs in three distinct steps. It typically begins with a deep breath which draws air into the lungs. The vocal cords spontaneously close thereby sealing the windpipe. Next, the air is compressed by the tightening of the expiratory muscles. The vocal cords are suddenly opened and the air trapped in the lungs is rapidly expelled along with any foreign debris in the windpipe. Care Drop plays an important role in clearing the throat and other air passages of secretions and irritating particles. These particles include dust, food, liquid, and mucus.
Menthol
Camphor
Thymol
Eucalyptus
Care Drop can be used anytime to cure Cough & soar throat pain.
Size & Flavors:
Care Drop is available in 2g (Strip Pack) as well as 2.5g (Pillow Pack Care Drop Jumbo).
Care Drop 2g is available in Regular Flavor.
Various flavors available in Care Drop 2.5g (Jumbo) are Regular, Orange, Lemon-Ginger & Mint Flavors.
Care Drop Classic: 2.3 gm in metallic strip packing in Lemon, Orange & Strawberry Flavor.
Care Drop Blister: 2.5 gm Lozenges in Blister packing in Orange & lemon-Ginger Flavor.
Pack Size:
Care Drop 2 gm: 150 pcs Pouch.
Care Drop 2.5 gm: Single Flavor 100 pcs pouch & Mix Flavor 10 pcs pouch & 250 pcs, 750 pcs, 2250 pcs Jar.
Care Drop Classic: 100 pcs, 200 pcs & 600 pcs Jar.
Care Drop Blister: 8 Lozenges x 30 Blisters in Display Box Packing in Honey-Lemon, Lemon-Ginger & Orange Flavors.