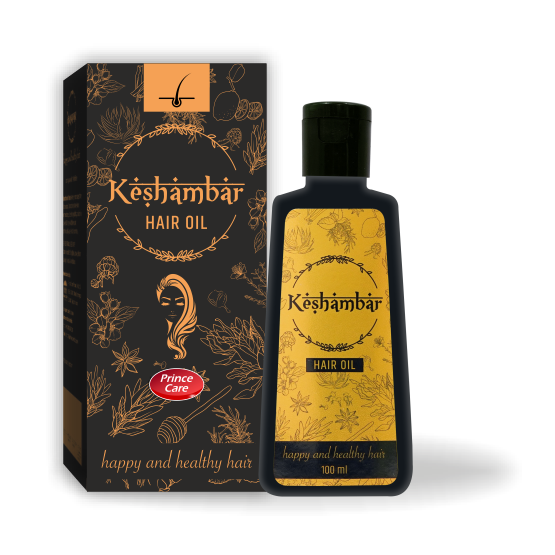 Keshamber Hair Oil
•Keshambar Hair Oil is made from the very ancient Ksheer Recipe which is known to the whole world with its extraordinary benefits.
•In Kshira Recipe, herbs are boiled with milk so that the herbs protect the hair with its maximum potency for a long time, reduce the loss and prevent it from turning white, as well as help in the growth of hair. They are strong and bright.
•The nutritious qualities of milk are best for hair, this method also gives its benefit.
•Keshambar Hair Oil promotes blood circulation to the head, which relieves mental tension and headaches, as well as improves memory and maintains mental balance.
• Keshambar Hair Oil forms a protective layer around the hair, reducing the impact of dust and dirt on the hair as well as protecting the hair from the harmful rays of the sun.
• Keshambar Hair Oil prevents hair from becoming dry and fragile and gives extra shine to hair.
• Keshambar Hair Oil is a premium product of the company which is available in attractive packing.
Part A- Active Ingredients:
Coconut Oil
Til Oil
Wheat Germ Oil
Lemon Oil
Aloe vera Gel
Mint Satva (Menthol)
Part B- Active "Kshir Pak Dravya":
Amala
Chameli
Dhatura
Karanj
Mehndi
Neempan
Mandoor Bhashma
Nili
Akarkara
Vaj
Mandukparni
Jethimadh
Bhringraj
Jatamasi
Daruharidra
Hemaj
Gunja
Elcha
Behda
Indravaruni
Excipients:
The Direction of Use:
Gently massage the oil on the scalp; do not rinse hair immediately.
Use it regularly, twice a week. To see visible results continuously use for 2 months.
For external use only. Store in cool & dry place. Keep away from direct sunlight, heat, and moisture.
This Product is manufactured under Ayurvedic License.
Packing: 100 ml