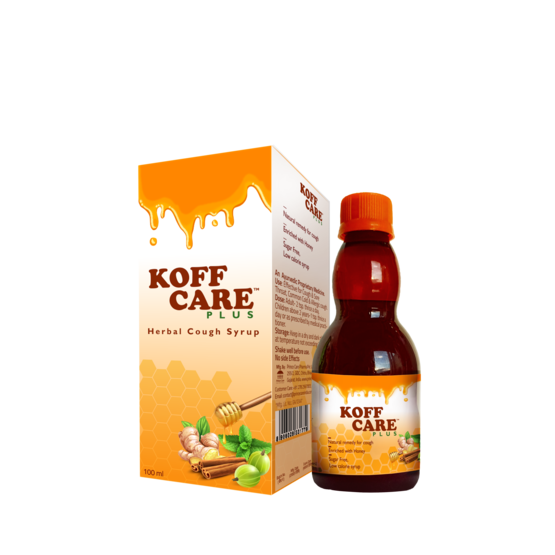 KOFF CARE PLUS
Koff Care plus syrup is useful in cough associated with respiratory infections,
chronic obstructive pulmonary disease. gives relief in cough, cold, asthma,
nasal congestion and relaxes respiratory airways.
An ayurvedic proprietary medicine.
Adhatoda vasica (Ardusi), Ocimum sanctum (Tulsi), Nausadar (Ammonium hydrocloras), Fagonia Arabica (Dhamasa), Emblica officinalis (Amla), Eucalyptus globulus (Nilgiri Patra), Curcuma longa (Haldi), Glycyrrhiza glabra (Jethimadh), Cinnamomum tamala (Dalchini), Cuminum cyminum (Jira), Alpinia galangal (Kulinjan), Zingiber officinale (Sunth), Piper longum (Lindi piper), Sida rhombifolia (Mahabala), Terminalia bellirica (Baheda), Taxus baccata (Talispatra), Bacopa monnieri (Brahmi), Sodil biborus (Suhaga), Bambusa arundinacia (Vanshlochan), Cinnamomum Camphora (kapoor oil), Mentha sylvestris (Pudina), Zingiber officinale (Ginger extract), Honey.
Adult - Two tsp, thrice in a day,
Children above 2 yrs - one tsp thrice in a day or
as prescribed by medical practitioner.
Instruction: shake well before use. Keep out of reach of children.
Storage Condition: Keep in a dry and dark place at temperature not exceeding 25°C.
Recommendation: It may be
recommended to correct dietary food rations in terms of the spread of colds as an additional source of biologically
active plant substances to the overall strengthening of the body. Follow a balanced diet, limit animal fats, sugar,
sweets and alcohol.