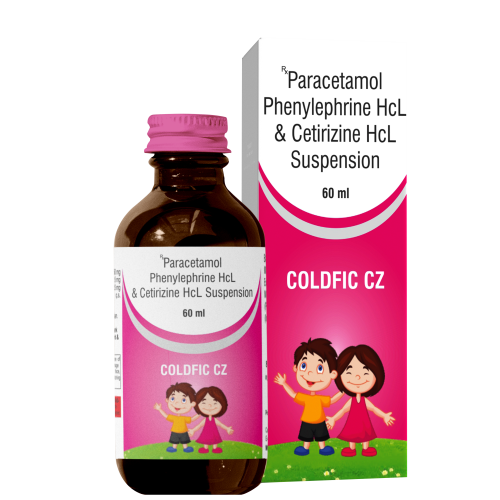 COLDFIC CZ
Composition: Paracetamol 250mg + Cetrizine Hcl 2.5mg + Phenylphrine Hcl 5mg
Mode of Action: Cetirizine is an antiallergic which blocks histamine (a chemical messenger) to relieve allergy symptoms like runny nose, watery eyes and sneezing. Paracetamol is an analgesic (pain reliever) and antipyretic (fever reducer). It blocks the release of certain chemical messengers in the brain that are responsible for pain and fever. Phenylephrine is a decongestant which narrows the small blood vessels providing relief from congestion or stuffiness in the nose.
Cetirizine, Paracetamol, Phenylephrine is used in the treatment of common cold symptoms.
Take this medicine in the dose and duration as advised by your doctor. Check the label for directions before use. Measure it with a measuring cup and take it by orally. Shake well before use.
Packing: 60ml pet bottle with Mono Box