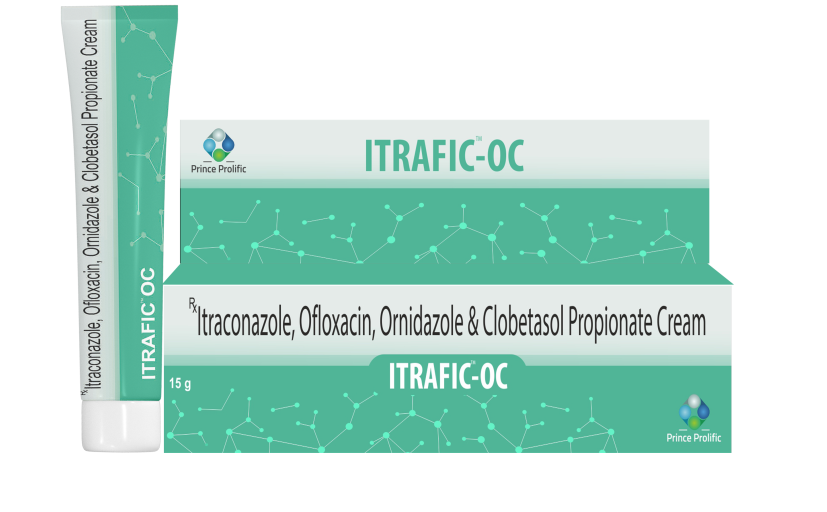 ITRAFIC OC
Composition: Itraconazole B.P 1.0% w/w + Ofloxacin I.P. 0.75% w/w + Ornidazole I.P. 2.0% w/w + Clobetasol Propionate IP 0.05% w/w
Mode of Action: Itraconazole is an antifungal medication. It kills and stops the growth of the fungi by destroying its cell membrane, thereby treating your skin infection. Clobetasol is a steroid medicine. It blocks the production of certain chemical messengers (prostaglandins) that make the skin red, swollen and itchy. Ofloxacin works by preventing the bacterial cells from dividing and repairing, thereby killing the bacteria. Ornidazole kills parasites and anaerobic bacteria that cause infections by damaging their DNA. Together, they treat your infection effectively. Ofloxacin & Ornidazole are anti-bacterial and anti-parasitic.
Ofloxacin , Ornidazole , Itraconazole and Clobetasol are anti-bacterial & anti-fungal agents used in the treatment of skin infections.
Apply it as a thin layer onto clean, dry, unbroken skin affected by an infection.
It may cause minor burning, stinging or irritation when applied. Inform your doctor if this does not go away.
Avoid contact with your eyes, nose or mouth. Rinse it off with water if you accidentally get the cream in these areas.
It is advisable not to touch or scratch the infected area as it can worsen the situation..
Packing: 15gm Lemi Tube with Mono Box Upper Flap