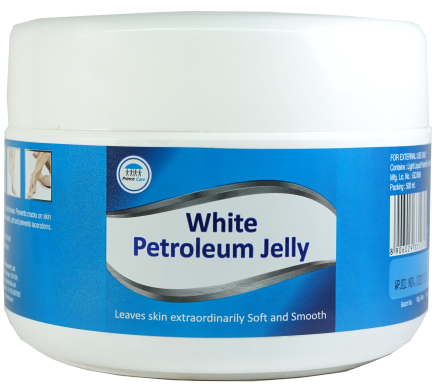 White Petroleum Jelly (Non Perfumed)
Petroleum Jelly is widely used for skin care, as it Protects skin against winter, prevents skin contraction & relieves dryness. It is also widely used as Baby Jelly for Babies to prevent nappy / diaper rash.
Petroleum Jelly also acts a very good healing aid for Cracked Heels & Burned Skin. In view of skin care application, our Petroleum Jelly is produced with extra fibrous smooth structure for providing Silky & Lubricating effect. In winter, Petroleum Jelly is fast absorbed by the skin forming a protective layer.
Light Liquid Paraffin
Paraffin
Wax
Micro Wax
Apply Jelly on dry Skin also useful as first aid in cuts and bruises.
Pack Size: Bottle of 100 ml, 200 ml, 500 ml & 1000 ml.
Caution: for External use only.