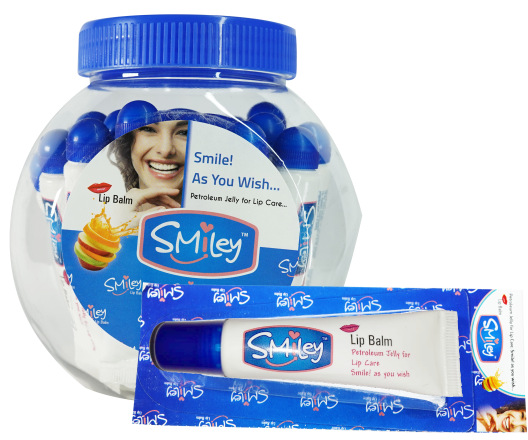 Smiley Lip Balm
Most people get chapped lips from time to time. Dry, cracked or sore lips can interfere with many daily activities, such as smiling, kissing, eating and talking.
Use lip balm before going out in cold, dry weather. Reapply several times while outside.
Avoid licking your lips. Saliva evaporates quickly, leaving lips drier than before you licked them.
Dehydration can contribute to chapped lips. Stay hydrated by drinking plenty of fluids.
Avoid Unnecessary Exposure To Cold Weather, Sun, Or Wind.
Avoid Smoking.
Smiley Lip Balm:
Pipermint
Wheatgerm oil
Excipients: Glycerin I.P., Light Liquid Paraffin, Microcrystalline wax, etc.
Natural Added Flavors
Use Lip Balm any time to smoothen up your dry lips.
Pack Size: Tube of 10 gm.
About Product: Smiley Lip Guard is manufatured under Cosmetic License & Lip Balm is Manufactured under Ayurvedic license.