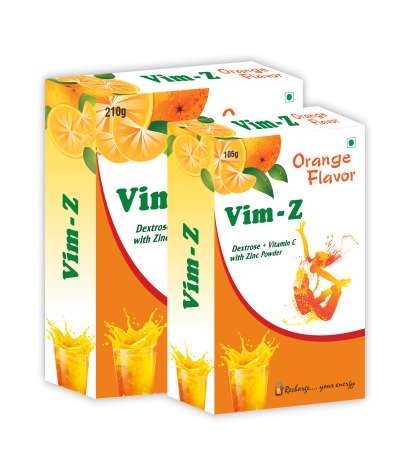 Zinc Supplement
Vim-Z is a combination of Dextrose, Vitamin-c & zinc Powder.
Dextrose provides 1/8th of the daily requirements of calories from carbohydrates. Dextrose readily gets assimilated and gives energy to overcome fatigue. Zinc is a vital element for nuliec acid synthesis which hepls in healing wounds and gives you energy. Vitamin-C, a known immuno stimulant helps in adjusting stress, helps antibodies formation and improves phagocytosis, leading to increase resistance against infections.
Vim-Z is energy drink with exciting flavor and tingling taste.
Dextrose
Sucrose
Vitamin-C
Zinc Sulphate
Permitted Orange Flavor
Natural added Color
Dissolve 35 gm in 200 ml of plain water and consume once or twice a day to gain immunity.
Pack Size: Box Pack of 105 gm, 210 gm & 500 gm.
Cautions: Store in Cool & dry Place.
Diabetic Patients are advisable to intact under medical
supervision.