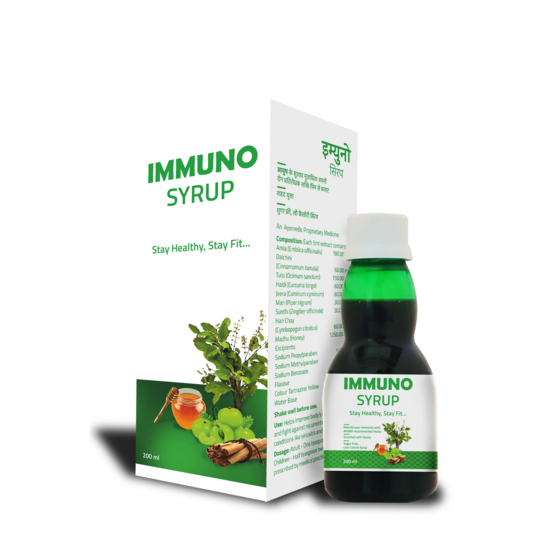 IMMUNO SYRUP
Prevention is always better than Cure. In our daily routines or on accidental basis, we come in contact with
various virus, bacteria and other microbes that may affect us by entering our body by variable means. We
must strengthen our body's immune system to stay safe. Ayush Ministry has suggested a list of herbs after
careful and thorough research. Prince Care Pharma Pvt. Ltd. has developed effective Immuno Syrup with
Ayush recommended herbs.
Amla :It has potent anti-oxidant property and controls cellular death.
Tulsi :It boosts defences against infective threats (Bacteria, Virus) by enhancing immune responses.
Haldi : It is known to have anti-inflammatory properties that help to boost immunity.
Dalchini : It has anti-oxidant properties and also improves cognitive function.
Jira : It controls parasitic infection and boost immune system.
Hari chay : It assists in the absorption of nutrients and strengthens the immune defence mechanism.
Sunthi : It reduces allergic airway inflammation and suppresses Th2-mediated immune response.
Mari : It modulates specific cellular & humoral immune functions.
Adult (14+): One tsp twice a day.
Children(3-13):Half tsp twice a day or as prescribed by medical practitioner.
• Protects our body from harmful antibodies, allergens, germs and harmful changes.
• Helps to fight foreign bodies entering in our system.
• Stimulate and strengthen body's immune system.
• Helps to strengthen physical as well as mental health.
Shake Well Before Use.
Use the product within 3 months of opening the cap. Keep Out Of Reach Of Children
Adverse Effect / Side Effect:
This is an ayurvedic proprietary medicine
without any adverse or side effects.
Packing: 200 ml
Buy Now