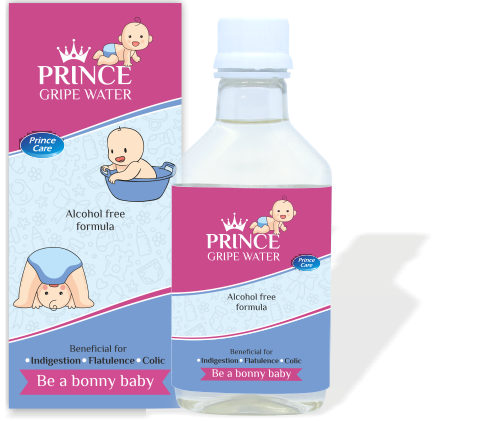 Gripe Water
Gripe water is a traditional Indian remedy for relieving colic discomforts. It contains safe, fast and effective natural ingredients.Gripe water is a natural liquid, which provides relief for babies and children suffering from minor stomach discomforts due to gas, colic and hiccups. Handed down from generation to generation, it has been used in many parts of the world. Prince Gripe Water is Alcohol Free trusted product in India for years.
Gripe is caused by muscle spasms and because of excess acid generated due to air bubbles formed in baby's tummy. When the air bubbles get trapped in a baby's stomach the stomach feels it is full of food, so acids are produced which would normally break down the food particles. These acids are not needed and can cause irritation. At the same time, because the stomach is full of air bubbles, its muscles are unable to relax causing cramps and spasms.
Dil seed oil - Warms-relaxes the tummy & breaking down trapped air bubbles
Sodium Bicarbonate - Neutralizes acid
Fennel- To aid digestion
Menthol - Soothe upset stomach.
Shake well. Give directly to child or put in baby bottle with water or juice. Should not give more than 6 doses in 24 hour period. Wait minimum 30 minutes before repeating dosage if necessary.
Age: • 1 to 6 months - One Teaspoonful, three times a day
• 6 months to 1 year - Two Teaspoonful, three times a day
• 1 year and above - Two to three Teaspoonfuls, three times a day
Pack Size:Bottle of 150 ml.
Caution:Keep Bottle away from sunlight.