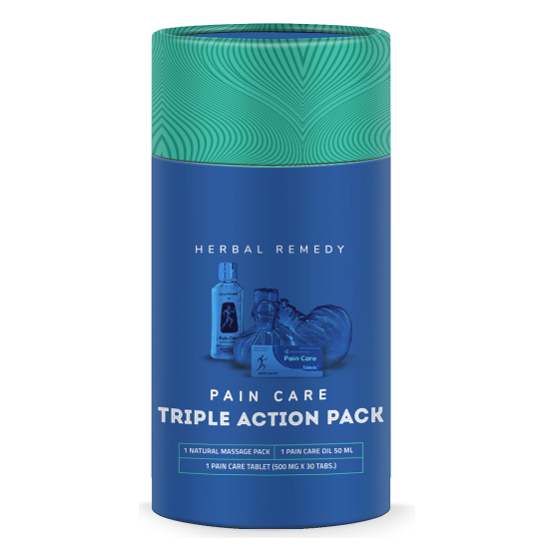 Triple Action Pack
"Triple Action Pack" is a premium product of a company with modern access to ancient methods of Ayurvedic treatment.
In Triple Action Pack, Natural massage pack, Pain care oil and Pain care tablets are included.

A natural massage pack is a combination of effective Ayurvedic medicine.

Pain care oil has been the top of product in the pain care categories for years.

The pain care tablet relieves pain with its unique methodology.
"Triple Action Pack" is highly effective for relieving pain in the situations described below:
Rheumatism

Inflammation of the bursa

Back pain

Arthritis

Cervical spondylitis

Muscle tension

Lumber spondylitis

Muscle sprain

Frozen shoulder

Sciatica

Osteoarthritis
1. Natural Massage Pack:
Fenugreek
Dull
Celery
Castor
Turmeric
Sand salt
Satpushpa
Mustard
2. Pain Care Oil:
Mahanarayan Oil
Mahamash Oil
Nirgundi Oil
Cedar Oil
Perfumed Oil
Gandhpur Oil
Eucalyptus Oil
Mushroom flower
Camphor
Ajovan flower
Mustard Oil
Colorfast Green FCF
3. Pain Care Tablets:
Shallaki
Guggul
Rasna
Ashwagandha
Guduchi
Gokharu
Jethimadh
Saunth
Swarnamakshi bhasma
Shilajit
Nagod
Chopchini
S.M.P
SPP.
Sod, Benzo
The Direction of Use:
How to Massage?
1. Oil Massage:-
Massage the required amount with pain care oil on the affected area.
Take 3-4 Ml oil in frying pan and soak it with the help of a massage pack. Check the temperature by applying the massage pack to a low temperature and applying to it the affected area on the back of the pain.
Apply the heated massage pack to the affected area with soft hands and rotate in a circular motion.
Keep on massaging for 10-15 minutes and heating the massage pack to low temperature as per the requirement.
After massaging, cover that part of the body with the clothes and let it rest for at least half an hour, then wash it off with warm water.
2. Pain care Tablets:
1 to 2 tablets can be taken 2-3 times in a day with water or according to doctor's instructions.
Packing: 1 pcs
This product is manufactured under Ayurvedic license.